Yet another gorgeous sunny day (you'd never believe it was a bank holiday weekend!), so, just for a bit of contrast, I decided to make a dark, moody, gothic tag.
I'd like to enter it into the
Dragons Dream Tag It On challenge
this week. The theme is birds (love this theme!) and it just so happened that I rediscovered some lovely bird rub-ons in my craft drawers yesterday. I hope this is within the rules as the bird itself isn't a stamped image, just the background details!
I created the background with stormy sky and dusty concord distress inks, stamped the frame and script stamps (from Tim Holtz) in embossing ink and heat embossed with clear powder, then wiped over with black soot distress ink. I'm really pleased with how this worked out. I then added the bird rub-on (which I think was from the periphery range by Basic Grey), a bit of lace and some dangly beads.

On another bird related note, I just have to post this gorgeous picture my husband created this morning! He started off with a simple photo of a crow in a tree and added colour and texture layers. I think it's fantastic and he likes it so much he's ordered a print of it to hang on our wall. It's not his usual style, but it's exactly the sort of picture I love.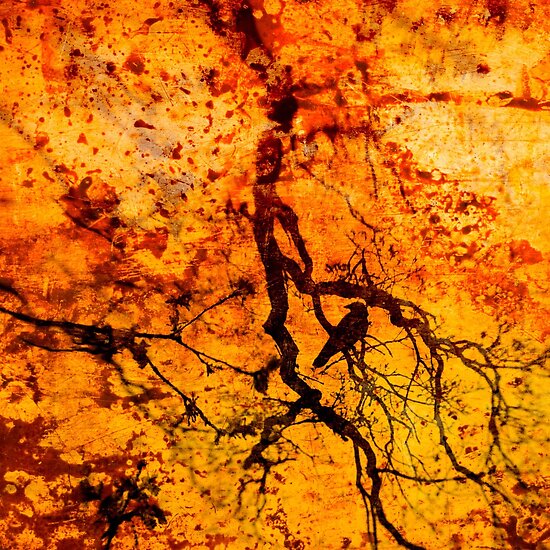 Hope everyone's having a lovely easter!
xx